Essential Oils and the MYTH about Therapeutic Grade!
---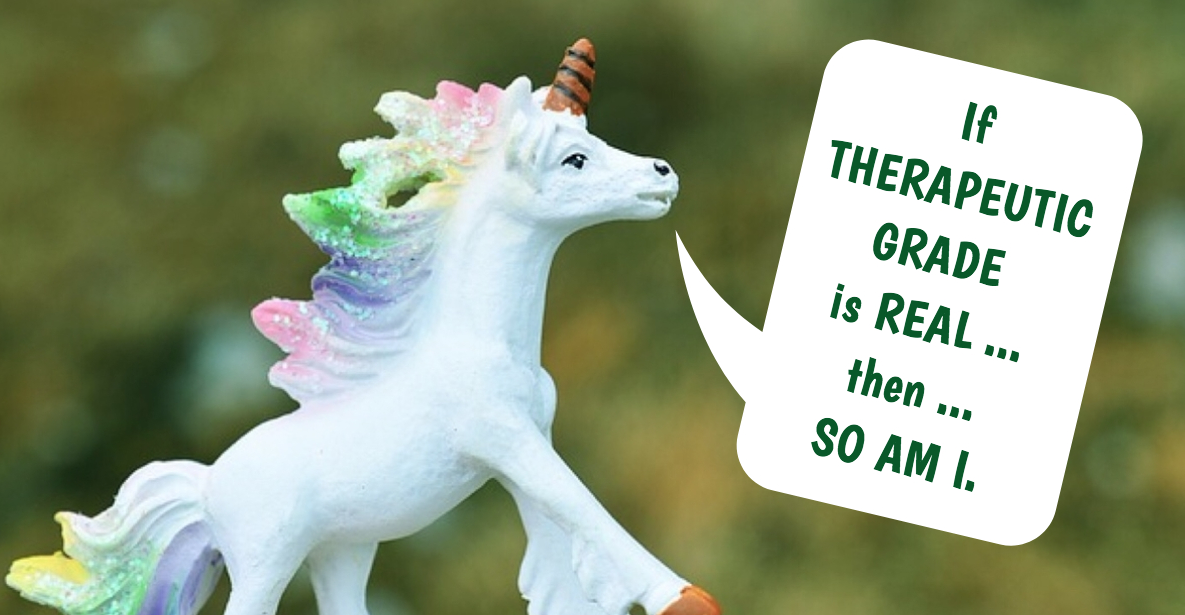 I am a big fan of essential oils and have found them very helpful in many areas of health and wellness for me and my family.
With that said, it's important to know that the term "therapeutic grade", when it comes to essential oils, sounds technical, official, and impressive, as if it were an industry-recognized certification reserved only for the highest-quality essential oils.
The problem is that the term "therapeutic grade" and another like it, "CPTG Certified Pure Therapeutic Grade," are nothing but marketing ploys.

They were made-up by essential oil companies to help sell their own products.
Differentiating one product from another is a critical aspect of marketing. However, there are times when this differentiation is a "certification" fabricated in an attempt to elevate a product as the market's "gold standard." This was the tactic used in 2007 to create the term "therapeutic grade."
Prior to 2007, the term "therapeutic grade" did not exist in the essential oil market. This term is not an independent or third party endorsement of purity and quality, but a trademarked marketing term created by a company selling essential oils. This 2007 creation spurred a greater fallacy, the term "CPTG Certified Pure Therapeutic Grade." Again, this term sounds technical, implying the product has been "certified" to be pure and of therapeutic grade. But, like its predecessor, it is nothing more than a made up, trademarked phrase.
What's more, these fabricated terms are defined by the very companies who invented them. Where there should be consistency, "therapeutic grade" seems to have different definitions. For ex
ample, some sources list as many as seven tests to determine "therapeutic grade," while other sources list only two tests for the same "certification."
Currently, there is no governing body that certifies essential oil quality and production, or designates a standardized grading system for essential oils.
Making up terms like "therapeutic grade" and "CPTG Certified Pure Therapeutic Grade" implies that there is such a controlling entity.
In fact, I would suggest that this practice is deceitful and unethical as these terms have no real certification or quality value. They are complete myths.
That being said, in the absence of a central governing body, I would recommend that we rely on two entities that provide reputable quality specifications for many essential oils: the Association Française de Normalisation (AFNOR) and the International Organization for Standardization (ISO).
There are other terms used to describe the quality of some essential oils. These terms include "medicinal grade" and "aromatherapy grade." Again, they do not have any actual certification value.
Until there is a government agency or other official body that certifies or "grades" essential oils, the best and easiest way to determine the purity of any oil is to look at the label on the bottle. Look for PURITY. Why use anything less than 100% pure. You should also look to ensure that each oil is certified NOT to contain any impurities or synthetic ingredients.
The other thing to keep in mind when it comes to essential oils, is that purity and quality are two different things. Just because something is pure doesn't mean it is high quality. Look at it this way: How would you like a glass of 100% pure orange juice…squeezed from unripe, sour oranges?
You should also ensure that the oils are also rigorously tested to meet stringent quality specifications. They should undergo a battery of tests to ensure they are always the highest quality available:
• Gas Chromatography/Mass Spectrometry (GCMS) testing
• Heavy metal/pesticide/herbicide testing
• Optical rotation and refractive index testing
• Specific gravity testing
In addition, the oils should be harvested through ethical and sustainable practices and traceable to its botanical plant source.
I hope you found this helpful and if you are interested in learning about where I shop for my essential oils, I invite to check out what we recommend.
LEARN MORE about:
Quality Testing

Myths

Prices and Price Comparisons

and MORE
Contact me any time if you'd like to get your hands on these affordable, high quality, pure essential oils.

Call, text, send an email or message me on facebook.

My info is below.
Want to stay updated with our Live Well Journey?
Visit the
"How We Roll"
page to subscribe to receive inspiration and first dibs on promotions, giveaways and other subscriber only resources. When you do, you will also learn how you can find the Courage to do Anything!
(Well, just about anything.)